Young Leaders Program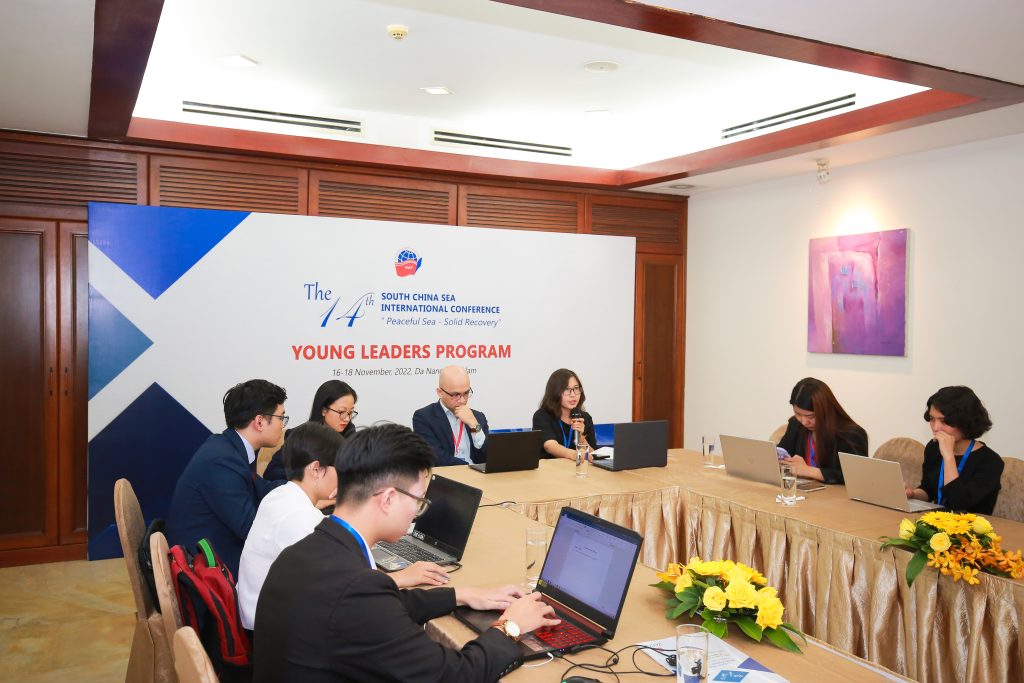 YOUNG LEADERS STATEMENT 2022
THE 14TH SOUTH CHINA SEA INTERNATIONAL CONFERENCE
YOUNG LEADERS PROGRAM 2022
"PEACEFUL SEA-SOLID RECOVERY"
November 15-18, 2022
YOUNG LEADERS STATEMENT
Following are the takeaways and recommendations of the Young Leaders Program 2022 in the 14th South China Sea International Conference:
Session 1: The South China Sea Cauldron: From A Slow Simmer to A Lingering Bubble?
Key take-aways
The South China Sea is witnessing complex developments: China's military building, US-China strategic competition, and increasing EU engagement in the Indo-Pacific region.
ASEAN has been facing challenges for decades. One of the most serious problems is that the bloc's unity has been undermined as shown in the ineffective COC process. Second, ASEAN is concerned that other sub-regional groupings like the QUAD and AUKUS are challenging its centrality.
Recommendations
ASEAN must stay united and consolidate its neutrality and centrality as an organisation to reduce external influence.
At the same time, ASEAN member states should think and act outside the box. Claimant states should push for issue-specific minilateral groupings amongst themselves and with external players, so as not to force all ASEAN members into taking a stand.
Session 2: Big powers and the Big Cs in the South China Sea: Cooperation, Competition, Confrontation or Coexistence?
Key take-aways
The South China Sea region deserves peace, cooperation and common prosperity. The South China Sea claimants should refrain from escalating tension in the region.
How the U.S and China manage their relations will play an important role in determining the extent to which Southeast Asia's strategic environment is characterised by cooperation or confrontation.
The U.S's engagement is important in maintaining strategic balance in the South China Sea.
Recommendations
ASEAN countries should engage in preventive diplomacy and confidence building measures by promoting inclusivity and multilateralism.
Countries of the South China Sea region should leverage on platforms such as the CPTPP, RCEP, IPEF and other free trade agreements to advance trade, collaboration and mutual understanding, strengthen regional adhesion, and collectively strive for regional peace and prosperity.
Session 3: Glowing Vista: Synergizing New Momentum from Regional Minilateralism
Key take-aways
Minilateralism emerged in the Indo-Pacific region as a result of two main factors: the ineffectiveness of existing multilateral mechanisms and the US-China Strategic Competition. Besides, the differences in regional countries' interests and development level also contribute to this phenomenon.
Minilateral initiatives exist in many different forms and purposes, some complementary, challenging or overlapping vis-a-vis ASEAN-led mechanisms.
Minilateral initiatives or groups between ASEAN member states have recently been formed on narrower and more specific themes,thereby proving more effective in solving issues and disputes that matter to claimant states directly involved.
Recommendations
It's essential to promote discussion on the topic of strengthening multilateralism among ASEAN leaders, and among international scholars, and the youth.
ASEAN should work with existing minilateral mechanisms to avoid overlapping tasks with ASEAN, to not only promote the ASEAN centrality but also effectively cooperate with dialogue partners.
ASEAN countries should approach minilateral mechanisms not only from a power balancing lens, but also consider geo-strategic and geo-economic factors.
Major powers should promote strategic confidence building with ASEAN.
Session 4: Commemorating UNCLOS at 40 and DOC at 20: The Way Forward
Key take-aways
The spirit of UNCLOS and DOC as instruments to resolve differences and build trust in the multilateral platforms must be championed.
Although UNCLOS and other maritime legal frameworks were concluded decades ago, they can still serve as a foundation to address emerging challenges and formulate future regulations.
Recommendations
Parties to international treaties should adhere to the provisions and implement the rulings in good faith.
There should be an enforcement mechanism, since none of the existing agreements, resolutions, and declarations involving countries surrounding the South China Sea contain any mention of enforcement mechanisms.
ASEAN must continue to implement the Declaration on the Conduct of Parties and expedite the Code of Conduct's conclusion talks, as they are utmostly crucial for norm-building and long-term dispute settlement in the South China Sea.
ASEAN and China should boost the process of formulating a Code of Conduct (COC) based on DOC in order to create a legally binding framework that serves the interests of all parties.
Session 5: The quest for capacity to handle novel and hybrid maritime threats and challenges
Key take-aways
Hybrid warfare/threats are actions seeking to undermine the status quo using ambiguous means and under the threshold of the opponent's "red line". These threats are not only hindering the Freedom of Navigation in the South China Sea, but also posing serious challenges that require coastal states to strengthen their Maritime Domain Awareness capacity.
Hybrid threats have exposed certain ambiguities and shortcomings in the current maritime legal frameworks that prevent regional states from effectively protecting their maritime sovereignty and upholding freedom of navigation.
Regional states respond to these "gray zone" threats by deploying their maritime assets, strengthening maritime law enforcement capacity, and leveraging minilateral and multilateral mechanisms.
Recommendations
States in the conflict should increase dialogue and coordination to promote mutual confidence, in order to prevent hybrid threats. Dialogues also serve as a means of communicating clearly the red lines of the states, which is useful in deterring hybrid threats.
ASEAN and major powers should engage in discussion to reach mutual understanding on the terms and definitions in international law documents, especially concerning the classification of new emerging entities which are not regulated by existing law, such as autonomous weaponary or vehicle/equipment.
Session 6: Rules of the Roads for Non-Traditional and Cross-cutting Domains
Key take-aways
Cyberspace is a particularly perilous and grey risk domain. Cyber warfare enables attacks on nations that cause economic damage comparable to traditional warfare. Attribution of such attacks, however, are difficult to prove and therefore allow orchestrators of cyber warfare to avoid repercussions or meaningful retribution.
The Space domain creates similar uncertainty. Attribution in space is also difficult, and the multi-use nature of systems means that an economic attack could be mistaken for a military one.
Major state actor in the region exercises aggressive behaviours, which causes concerns of potential sensitive risks for other regional states and their partners
Recommendations
Improve the capabilities of regional states in identifying and dealing with cyberspace risks.
Sharing intelligence between actors will limit uncertainty regarding attribution. Further, publishing some of that intelligence may deter performing key actions.
Session 7: Promoting Blue and Green Economic Cooperation
Key take-aways
A comprehensive definition of the blue economy includes collecting data, generating insights from those data to use maritime resources sustainably to develop the economy, improving human well-being, increasing equality, and inspiring future solutions.
Sharing accurate information will increase collaboration, promote growth, and support the blue economy. Countries should strive to build trust and share information with each other because possessing a large enough common data source between states is crucial for a blue and green economy.
In addition, financing generated from the capital markets or multilateral/bilateral agencies are not yet fully flowing toward ocean health and conservation efforts.
Recommendations
It is necessary for ASEAN to create more effective legal frameworks in order to facilitate the promising prospect of a blue economy.
ASEAN countries should invest in a more comprehensive platform that encompasses all financing instruments, investments, and mechanisms that contribute to a "climate plus" approach, impacting on both climate and environmental sustainability goals.
ASEAN countries should create regional mechanisms to exploit maritime resources sustainably.
The ASEAN's chair in 2023 should concentrate more on the blue economy and sustainability in the Indo-Pacific region.
Session 8: Sustainable Trade and Supply Chain for Economic Resilience
Key take-aways
Covid-19 and the Ukraine-Russia crisis have shown the downside of globalisation when supply chains were disrupted. Global maritime transportation was put to a severe halt, increasing the price of shipping and reducing the trade volume.
Trade and supply chains are not just economic, but have become political and security domains. For example, the current competition in the semiconductor industry is increasingly heightened by the recent China-US Trade War and the threat of the Taiwan crisis.
Supply chain reconfigurations have been the means for great powers to compete in the "tech race" in a zero-sum game (eg: by exercising export controls to curtail tech development, decoupling of technology ecosystems to reduce interdependence).
For ASEAN countries, there are areas for positive-sum collaboration with partners in enhancing FDIs and financial, technical support for new promising manufacturing sites.
Tensions in the Taiwan Straits and the South China Sea are unlikely to wane soon. If the conflicts increasingly escalate into direct military confrontations, they will have severe damage to the stability of trade and supply chains in the region.
Recommendations
Countries in the region should diversify their supply chains to increase resilience and avoid heavy dependence in the uncertain context. Meanwhile, partner countries should facilitate regional countries in doing so.
Countries should conduct research to estimate costs for alternative shipping routes and find ways to make it more feasible.