Young Leaders Program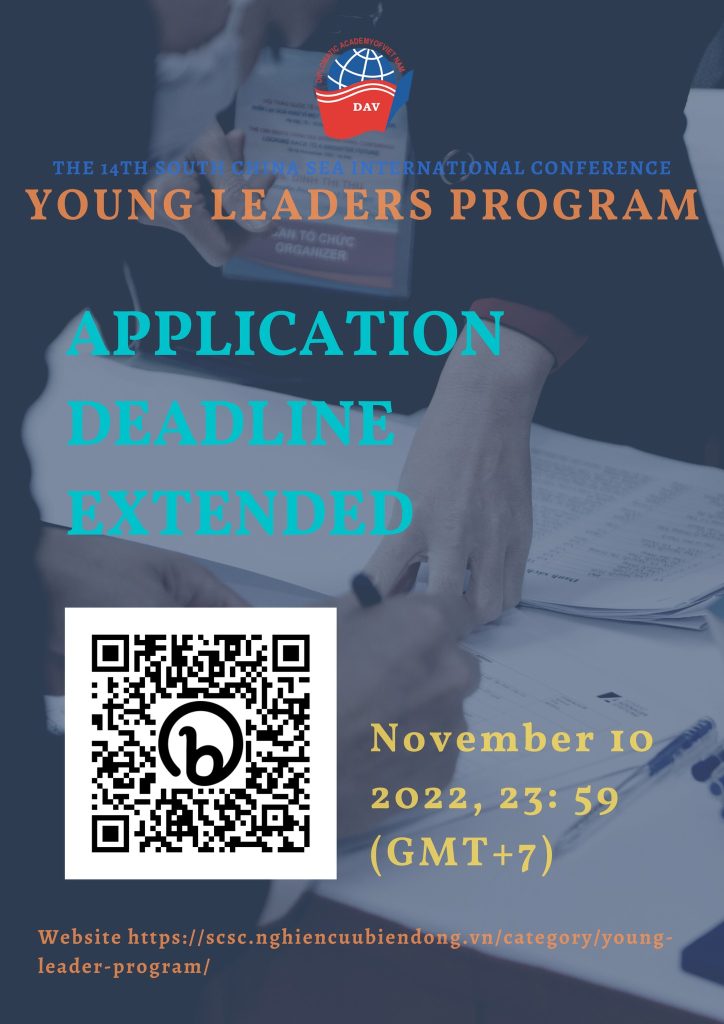 YOUNG LEADERS PROGRAM APPLICATION DEADLINE EXTENDED
Being a part of our network of the Young Leaders Program in the 14th South China Sea International Conference means joining a vibrant and inclusive community with enthusiastic scholars, practitioners, policy makers who are eager to make positive changes and create a prosperous and cooperative South China Sea.
In that community, young people—the future leaders of the world—show their roles and responsibilities for the pressing issues facing us today and in the future.
A forum to encourage research on maritime developments. A forum to nurture friendship and build mutual understanding, and above all to turn passion into substantive ideas and actions for the peaceful development and prosperity of the world.
Be a part of the Young Leaders Program today. Be the pioneer. Be the leader. Be the positive change maker.
📍 Application Information
Deadline: 23:59, October 30, 2022 (GMT+7). Application forms sent after this time cannot be accepted.
Application form: https://bit.ly/YLPDAV2022_ApplicationForm
Tentative Agenda: https://bit.ly/YLPDAV2022
Visit our YLP2021: https://scsc.nghiencuubiendong.vn/…/young-leader-program/
📍 For further inquiries please contact:
Ms. Hoai Nguyen (Programme Coordinator).
Email: phuonghoai.nguyen@dav.edu.vn. Viber/Whatsapp: +84 328 826 575
Website: https://scsc.nghiencuubiendong.vn/…/young-leader-program/