Young Leaders Program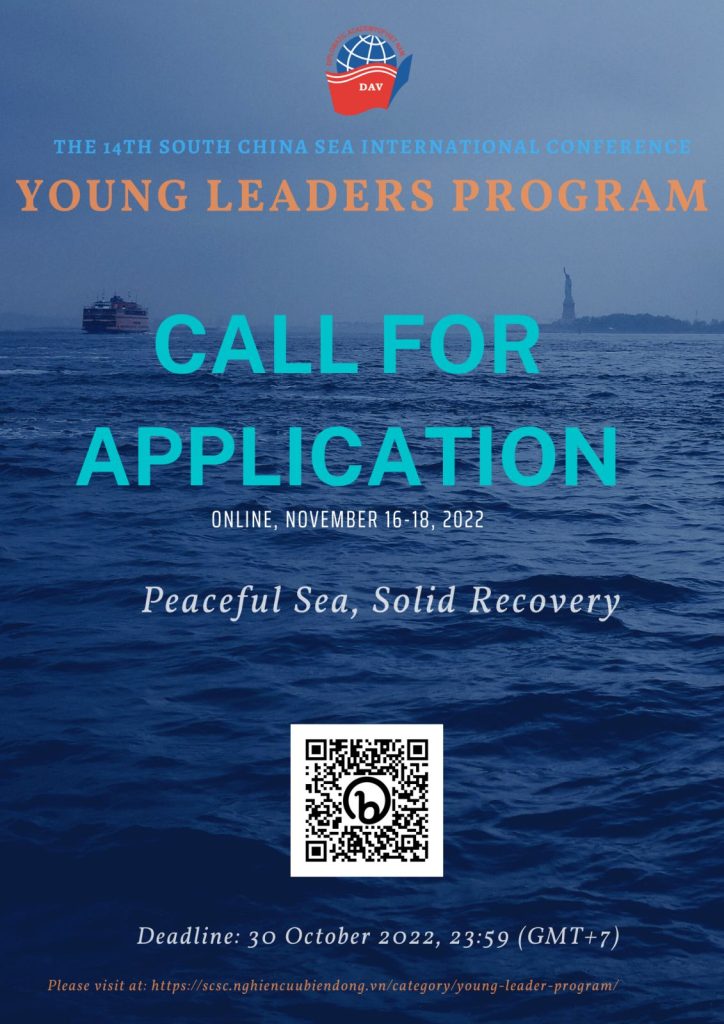 Young Leaders Program 2022 | CALL FOR APPLICATION
Coming back after two seasons in the series of international conferences on the South China Sea hosted under the hybrid format by the Diplomatic Academy of Vietnam, the Young Leaders Program 2022 themed "Peaceful Sea – Solid Recovery" takes place from November 16-18, 2022 in Da Nang, Vietnam, will continue to be a forum gathering and nurturing the voices of young scholars and initiators in the region and globally to discuss and exchange their unique thoughts and breakthrough ideas for geopolitical developments in the region.
Who can apply? (you must meet the following criteria; otherwise your application will be invalid)
• People aged between 18 and 25 (at the start of the programme)
• Candidates must be able to use English fluently (IELTS level 7 or equivalent).
• Undergraduates/Graduates with relevant background knowledge in political science, international relations, and other social sciences.
– Full participation in the 14th South China Sea International Conference;
– Be a part of a network of worldwide exceptional scholars from prestigious think-tanks and universities.
– Raise your own voice and make substantial change for pressing issues in the South China Sea
– Certificates of Attendance at the Conference for participants after completing the program.
Deadline: 23:59, October 30, 2022 (GMT+7). Application forms sent after this time cannot be accepted.
Application form: https://bit.ly/YLPDAV2022_ApplicationForm
Tentative Agenda: https://bit.ly/YLPDAV2022
Visit our YLP2021: https://scsc.nghiencuubiendong.vn/…/young-leader…/
—
For further inquiries please contact:
Ms. Hoai Nguyen (Programme Coordinator).
Email: phuonghoai.nguyen@dav.edu.vn. Viber/Whatsapp: +84 328 826 575